Professional Background Removal Service
We manually remove the background from every image to ensure clean, professional, and outstanding results for your images.
Our background removal service is priced at $0.35 per photo. We remove the background or replace it by hand-drawing a clipping path or using Photoshop masking to ensure the highest quality.
How We Perform in Background Removal Service
Our Photoshop experts isolate objects from the background and replace the background as per client requirements. To do this, we use the pen tool to create a path close to the object and mask it; then, we replace the background. When some products come with soft edges or are blurry, we use image masking methods to select the object perfectly.
Image masking is especially required when working with a model with flying hair or fur products. Tasks involving hair, fabric, or delicate details are best handled using masking tools. Regardless of the approach employed, we guarantee a clean and polished appearance for your images, eliminating any distracting background elements.
Clipping Path For Background Removal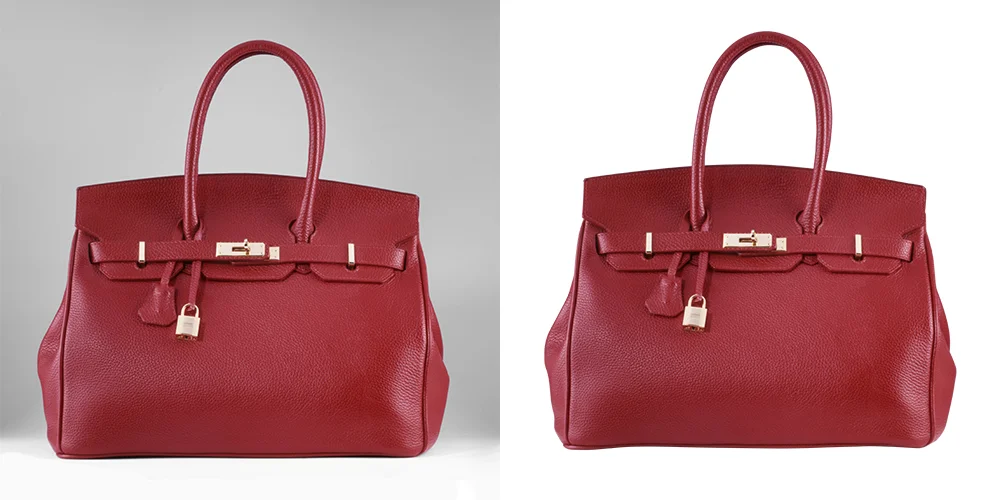 Clipping Path is the main tool for background removal services. It helps create a path around an object. Our experts zoom the image up to 300% when they draw a path and pay attention to the details to create the path around the object. There are many more options available, but when quality is a top priority, clipping path is essential for background removal services.
Image Masking For Background Removal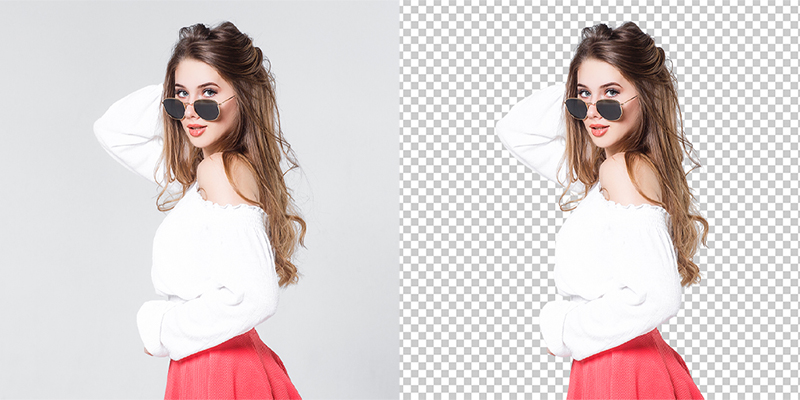 We use Image masking methods for complex backgrounds such as hair, fur, and other soft elements. At Hello Edits, we use a variety of masking tools, including layer masking, alpha channel masking, magic tools, and the background eraser tool to achieve a knockout effect for complex backgrounds
Our background removal service is not limited to just removing the background. We understand that sometimes a product may need color correction, wrinkle reduction, object removal, or the addition of a shadow underneath. That's why we also offer services such as color correction, shadow creation, photo retouching, and ghost mannequin services. If you have specific requirements for your photos, we have Photoshop experts to fulfill your needs quickly!
The flexibility of Our Background Removal Service
At Hello Edits, our standard delivery time is 24 hours, and we can edit up to 4000 images in a day with a 100% quality guarantee. We remove backgrounds by hand and use Adobe Photoshop, paying attention to every detail. Our dedicated team zooms images up to 300% to ensure pixel-perfect work. Our background removal service provides a wide range of options for removing backgrounds according to your specific requirements, including:
What Editing Do We Perform in Background Removal Services
Remove Product Background and replacement
We remove and replace backgrounds from products to ensure that the images look professional and are ready for online presentations. Statistics show that 76% of product images have plain white backgrounds, and most ecommerce platforms recommend white backgrounds for products.
Hello Edits offers an affordable background removal service for product photos with a 100% quality guarantee. Our Photoshop experts do background removal for product images with advanced techniques to carefully separate backgrounds from objects.
Remove Wrinkles from Clothes photo
For clothing businesses, we offer a special background removal service where we reduce wrinkles in products, fix product shapes using the liquify tool, and correct color balance. We perform comprehensive editing and remove the background to ensure the product is ready for your online shop.
Our background removal service is the best choice for any eCommerce business and photographers. They can collaborate with us and use us as a virtual photo editing studio. We are always ready to establish agreements for your regular service needs.
Remove Background from Photo
Looking for a fast and friendly photo background removal company? Hello Edits is definitely worth considering for your needs. While you can edit your images in-house, it can consume valuable time and resources. However, you can save both time and money by using our photo background removal service.
Sometimes, even expensive cameras fail to capture perfect photos on a white backdrop due to poor lighting and shadows. In such cases, you can rely on our photo background removal service to make your background pure white. We also offer additional services such as product center alignment, cropping, resizing, and the removal of dust and unwanted objects.
Isolate picture from the background
Removing unwanted backgrounds from images is essential when you intend to use them for your business promotions or in online shop catalogs. Customers prefer to view products on a clean background and expect better visuals before making a purchase decision. Therefore, isolating the picture from the background and placing it on a clean backdrop is necessary.
By removing or changing the background of your image, it can achieve a professional and eye-catching appearance. Our Picture background removal service can handle even the largest batches in just a few hours. This is particularly important for product images, where you may need the subject to be separate from the background, and we professionally handle this requirement for our clients.
Remove Background from Translucent Object
Removing the background from translucent objects is a difficult task that requires experts like us. Whether you need background removal of frosted glass, semi-transparent plastics, or any other translucent material, our skilled team of Photoshop experts will isolate it perfectly from the background while maintaining its inherent translucency.
Have you tried to do it yourself and failed? No problem; we will take care of it for you. Achieving a perfect result requires the use of multiple Photoshop tools and meticulous attention to detail. Our background removal process expertly separates translucent objects from their backgrounds and seamlessly places them on the background color of your choice.
Remove unwanted objects from photo
Our photo retouching service can remove unwanted objects from your images. During outdoor photoshoots or in public places, unwanted individuals or objects may appear in your photos. We can professionally remove these people or objects, tailored to your preferences.
Product photographers often use supporting objects to style or display products. It's a common practice. For instance, when a photographer is shooting a handbag with a strap and wants to show it standing, they may use a rope or support to make it stand upright. Our expert retouchers can remove these supporting elements, making your image appear as if the bag is standing naturally without any additional parts.
Price for Our Background Removal Service
Our background removal service starting price is just $0.35 per image. The price could be higher for complex images and rush delivery. Our standard delivery time is 24 hours. We also offer a 40% discount for bulk orders and to our regular clients.
$0.35 Per Image for 24-Hour Deadline – We charge $0.35 per image for simple-shaped images, and for complex images, it could cost between $0.35 and $0.99.
$0.65 Per Image for 12-Hour Deadline – We charge $0.65 per image for simple-shaped images, and for complex images, it could cost between $0.65 and $1.99.
$0.99 Per Image for 6-Hour Deadline – We charge $0.99 per image for simple-shaped images, and for complex images, it could cost between $1.99 and $4.99.
When Background Removal Services Are Needed
Background Removal For Model Photo
In the fashion industry, shooting product photos with models can be more costly than using ghost mannequins or flat-lay product photography. Therefore, it's essential to capture high-quality photos and edit them professionally. Models are often associated with professional and luxury brands for their products. We offer a comprehensive photo retouching package for model photo editing, including background removal.
Background Removal For Clothing Photo
We remove the background from clothing images by creating a vector path around the product and eliminating the background. When clothing is displayed with a model, we create a path around the body parts and use the masking method to select soft edges such as hair and fur, ensuring a perfect separation between the background and the subject. Additionally, we perform basic retouching to reduce wrinkles, remove dust, and eliminate unwanted objects.
Background Removal For Ecommerce Photo
To save time and costs for your e-commerce business, you can use our professional background removal service to edit your batch of photos. Hello Edits is undoubtedly your best choice if you want to replace backgrounds or create transparent backgrounds. We offer free cropping and resizing along with background removal to ensure that the images are ready for your Amazon, eBay, or Shopify shop.
A clean and high-quality image can increase your potential sales and engagement. With our e-commerce photography editing service, we will take responsibility for ensuring that your images are ready for your online shop within a short time. Our Photoshop experts will double-check your images before delivery, allowing you to upload them immediately after receiving them from us.
Background Removal For Amazon Product
Get your product images edited like a pro before uploading them to Amazon. Amazon is the world's best and largest marketplace for selling products. High-quality images can have a significant impact on your Amazon shop. Therefore, even if you've taken product photos with a smartphone, consider using a photo editing service to create a pure white background and make your products look professional and ready for upload to Amazon.
Our background removal service removes the background and replaces it with your desired color. We also fulfill specific requirements of our clients, such as adding drop shadows underneath products and removing unwanted objects and dust. A drop shadow can add depth to the product and make it appear more realistic.
Background Removal For Fashion Photo
Background Removal For Shopify product
Background Removal For Product Photo
Background Removal For Furniture Photo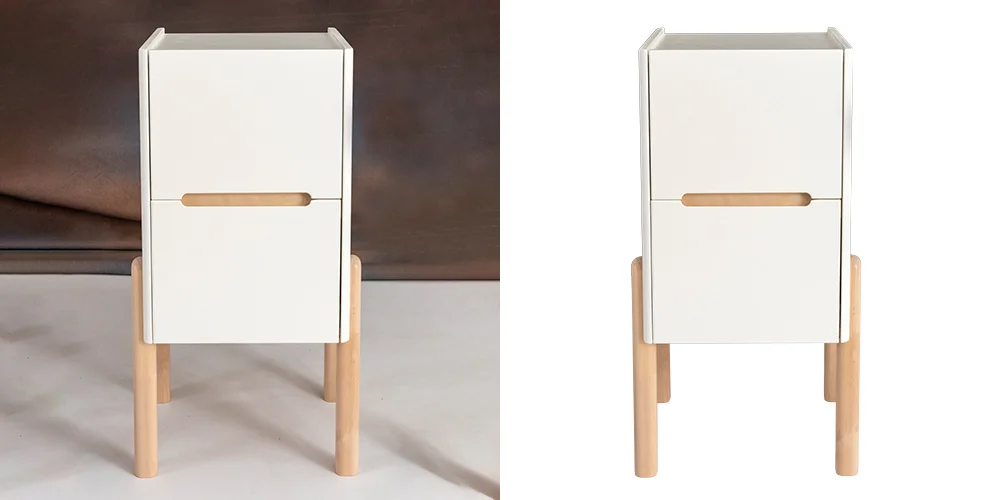 We have 13 years of experience in this industry and a team of 170 professionals to meet your photo post-production needs.
Every single image is edited by our professionals, and we perform double QC (Quality Control) to ensure the highest editing quality.
Get your images done within 12 or 24 hours. For urgent assignments, we also offer rush delivery within 6 hours to meet the tightest deadlines.
Receive your exceptional, pixel-perfect thousand edited images in just one day. We assure both quality and a commitment to meeting deadlines.
Our starting price is only $0.35 per photo, and we provide discounts for bulk orders. This is 60% less expensive than handling it in-house.
Our support team is available 24 hours a day to answer all your questions. We highly value and respect our clients' time and their businesses.
Image Complexity in Background Removal Service.
How long it takes to remove the background from an image depends on the image's complexity. If the photo has only a few curves or square shapes, it will take just one or two minutes. However, if the photo contains multiple curves, holes, and soft edges, the process may require several minutes, or even up to 30 minutes, to complete the background removal.
Simple Shape Object Background Removal
Simple background removal refers to the process of removing the background of a product image that has a simple shape, such as a square or round object. In this case, the background can be clipped with just a few pen tool pointers, making the process quick and easy. This type of background removal is ideal for products such as boxes, mugs, and other items with simple shapes, where the object can be easily separated from the background.
Medium Shape Object Background Removal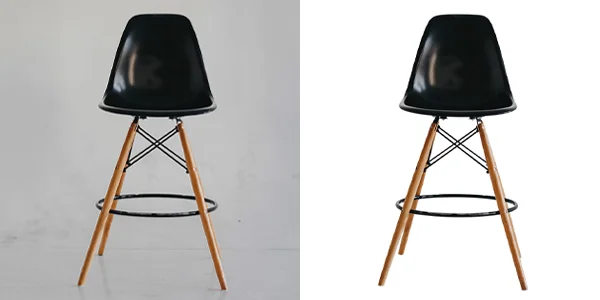 Medium background removal is required for products that have a complex shape, such as flowers, headphones, or clothing items. These products may have intricate details that make it difficult to cleanly separate them from the background. Our expert editors use advanced techniques like the pen tool and layer masking to accurately remove the background while preserving the details of the product. We ensure that your images are crisp, clear, and ready to be used for any purpose
Complex Shape Object Background Removal
Complex Background Remove is a process that requires a high level of skill and expertise. This type of image usually involves intricate and detailed objects with complex shapes and structures that make it difficult to remove the background without affecting the overall quality of the image. Examples of images that fall into this category include bicycles, models with flying hair, flower boutiques, and more.
What Makes Us Stand Out Among Competitors
When it comes to choosing a background removal service provider for your business, Hello Edits is your top choice. We outperform similar background removal service providers in terms of price, quality, turnaround time, and communication. Here are some key strengths of our background removal service:
Our team of skilled image editors are trained to deliver top-quality results for background removal service. We use the latest Adobe Photoshop tools and techniques to ensure that your images look their best.
Our standard delivery time is 12 to 24 hours for up to 4000 images. We understand the importance of meeting deadlines and make every effort to deliver your images within the agreed-upon timeframe.
We've made it very easy for our clients. You can simply submit a quote request or send us an email. We will get back to you in 15 minutes. You can pay after the work is complete, and there's no need to sign up or input credit card information.
Our competitive pricing can save you up to 40% compared to similar background removal service providers. Starting at just $0.35 per image, we offer discounts for bulk orders. Our unbeatable background removal prices come with a guarantee of uncompromised quality.
We understand that communication is a vital part of business, and every second is precious to everyone. We respond to our customers promptly, and we readily accept and fulfill additional adjustment requests to ensure client satisfaction.
A trusted company is defined by its reputation. We have successfully completed thousands of projects worldwide and earned an excellent reputation. Our Trustpilot reviews attest to our commitment, quality, and professionalism.
Key Benefits of Background Removal Service.
Background Removal Services FAQ
We offer free trials to our clients without signup and no credit card required. Just submit a free trial to us, and we will send back edited images to you very soon.