Background Removal Services
Elevate your product photos with our background removal service. We isolate your subject, eliminating any unwanted elements for a clean and professional look. Whether it's a white background, a single-color, or a contextual background that complements the scene, we can tailor it to your needs. Perfect for online marketplaces that require a white background standard
Our skilled photo retoucher provides high-quality, hand-crafted background removal services for only $0.39 per image. Whether you require a transparent, solid, or mixed background, we have the expertise to make your images stand out. Try us today!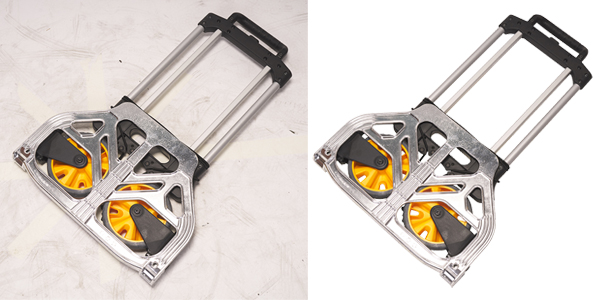 Why You Should use our background removal service
We've been providing professional photo editing services since 2013. We know what our clients need and how to get the job done.
We are committed to providing our customers with the best possible experience and therefore offer a 100% satisfaction guarantee.
Our office is open 24 hours a day, and we operate on a three-shift schedule. This means that someone is always here to help you.
We know how important to protect clients' image privacy. This is why we're trusted by over 200 plus businesses globally.
Background Removal: The Process Explained
Effortlessly remove backgrounds in Photoshop using either clipping paths or image masking techniques. Clipping paths are ideal for subjects with simple backgrounds such as objects with sharp edges, while image masking is better suited for more complex backgrounds like hair, fabric, etc. Regardless of the method, you'll end up with a polished image free from any background distractions. Whichever method you choose, the result will be a clean and professional look.
Remove Background By photoshop pen tools
Our expert Photo Retouchers use the Photoshop pen tool to create precise clipping paths for hard-edged images, allowing for seamless background removal or color changes. We take great care in the path creation process, to ensure a natural and flawless final result. To ensure accuracy, our team zooms in on images up to 300% to ensure each path point is placed perfectly.
Background Removal by photoshop Masking tools
This powerful technique is perfect for tackling small details and areas that clipping paths can't handle, such as hair, fur, and other soft elements. At Hello Edits, we use a variety of masking tools, including layer masking, alpha channel masking, magic tools, and the background eraser tool to achieve a knockout effect for complex backgrounds.
Background Removal Services for Ecommerce
At Hello Edits, we provide high-quality background removal services to help your product photography stand out. Our specialist services are exactly what you need for crisp, clear, accurate, and transparent background with no delays or waiting around. If you're serious to buy  image background removal service that makes you number one, Hello Edits is the best choice for you. Try us for free and let's see what our experts can do for you. If you have an eCommerce business you must need to edit your product image before uploading them to your shop. 
When background removal service needed?
Background removal can be extremely helpful in product photography. There are often times when there are unwanted objects in a photograph that can take away from the product. Imagine if there were a background object in a product photo that potential buyers found distracting. It would hamper the growth of your business. That is why you need a background removal service to ensure that your product photos are clean and distraction-free. Here are some examples of background removal services:
Eliminate Unwanted Subjects
Achieving the perfect image is possible by eliminating unwanted objects. Whether it's a party or a beach scene, getting the perfect shot can be difficult. The same goes for product photography, where small dust or other distractions can detract from the overall image. That's where our editing services come in, we can easily remove or change the background to give you a polished and professional final product.
We can save time by taking multiple products in a single shoot and later editing them separately using a photoshop background removal service. Or, if you need to add a product to a photo, you can use our photoshop background removal service to do so quickly and easily. We also offer PSD files with path selection, so all you need to do is make the edits you need.
Inadequate Subject Remove
Background editing doesn't have to be an all-or-nothing process. Sometimes, you only need to remove a specific section, like an unexpected person or clutter. That's where our background knockout service comes in. We can expertly and swiftly remove those small, unwanted details, giving you the perfect image.
background removal for Fashion Industry
Hello Edits offers an unparalleled background removal service tailored to the fashion industry. Our professional Retouchers use advanced techniques like clean background, clipping path, and masking to edit model photos. We also expertly handle poor lighting and color, and remove any dust or wrinkles, so your images are ready to showcase on your online store.
background Removal for Amazon product
Many top online marketplaces, including Amazon and eBay, recommend using a white background for product photos. However, other background colors such as black or gray can also be effective. Black backgrounds are often used for luxury products. To ensure your product stands out, make sure the background is clean and plain before uploading it to the site
Apparel Image background removal
Hello Edits is a leading provider of apparel photo background removal services. To achieve a 3D realistic look for your clothing images, we offer Neck Joint and Ghost Mannequin services. These techniques use mannequins to maintain the true shape of the apparel, creating dynamic 3D effects that give the illusion of the clothing being worn by an invisible model. Consistently professional clothing images improve visual appeal and boost sales.
Remove Background of eCommerce Products
Attract more customers and increase sales with professional eCommerce product photos. A popular trend in product photography is to have a clean, pure white background. Our background removal service can help you achieve this professional aesthetic, making your products stand out among the competition.
background removal service for accessories products
Sell more accessories with polished product images. Consumers are always looking for trendy and stylish accessories, make sure your images are visually appealing and professional by removing any unwanted elements with our background removal service. This will increase the chances of attracting customers and boosting sales.
Global Statistics of product Image's Importance
A whopping 32 percent of marketers say that visual images are the most important form of content for businesses, so it's clearly a good idea to focus on creating high-quality visuals!
Photo quality is the most important factor for online shoppers when deciding whether or not to make a purchase, according to a recent study. 90% of respondents said that clear, high-quality photos are essential in their decision-making process.
50% of surveyed online buyers in the United States say that product image quality is a key factor in their decision to make a purchase. In other words, if the photos of products look bad, they're less likely to buy it regardless of what the product actually is.
What to Consider When Choosing Background Removal Service?
Background removal is a crucial step in enhancing the visual appeal of an image. It allows the subject to stand out by eliminating the background distractions. This is particularly important for social media, where eye-catching images are key to gaining followers and driving business. Additionally, removing the background can also improve product presentation by creating a transparent or white background. If you're unsure of how to perform this process in Photoshop, it's best to hire a professional background removal service provider. When choosing a provider, here are some factors to consider:
At Hello Edits, we understand that quality is the most important factor to consider when purchasing a product or service. If you can't deliver the level of image quality that your customers expect, there's a good chance they won't buy your products. As a result, we provide a free trial to evaluate the quality of our service.
You're looking for a top-quality background removal service, and you've found one with a great user interface and an easy-to-use system. That's a sign of a professional service, and you can confidently place your order without hesitation.
Hello Edits is a great example of a professional editing firm that offers quick and easy ordering, as well as fast communication and order processing. By hiring such a firm, you can save yourself a lot of time and hassle when it comes to getting your questions answered quickly and efficiently.
A good way to determine if a background removal service is reliable is by looking at their reputation. Here at our company, we have a long list of positive reviews and accomplishments that have established our reputation as a reputable service provider in the industry.
It's important to think about a background removal service's capacity when making a decision. You may only need a few images edited now, but in the future you may have thousands. So, if you want to work with a company for a long time, make sure they can meet your needs even if you have large orders.
Security is key when choosing a photo background removal service. There's always the chance that your images could be stolen if you go with a service provider that you don't trust. That's why it's important to make sure their uploading method is secure and to read through their privacy policy carefully. By taking these extra steps, you can ensure that your images are safe and sound.
How Does Background Removal Enhance Other Photoshop Services?
Our skilled photo retouchers are available to offer expert design suggestions for your product images. We ensure precise editing to meet your specific requirements. Our services include techniques such as clipping path, deep etching, background removal, image masking, retouching, and color adjustments, all customized to your unique needs.
Background Removal Services FAQ