We provide top-quality clipping path services that accurately and meticulously place the path around the closest subject. As trusted partners to retailers, photographers, and internet businesses, our commitment to delivering high-quality results with impeccable attention to detail is well-known. Partner with us for professional clipping path services that exceed your expectations.
Our team of skilled designers and retouchers possesses the expertise and experience to meticulously create clipping paths that seamlessly separate the subject from the background, resulting in flawless results. We understand the significance of precise path placements in achieving professional and polished visual content.
Our Clipping Path Services
We specialize in creating high-quality, hand-made clipping paths using advanced tools in Adobe Photoshop. Our clipping path services include two main types: Single Layer Clipping Path and Multi-Layer Clipping Path. We can also categorize our services based on image complexity and the specific requirements of the project.
Also known as a simple clipping path, this type involves creating a basic path around the object with straight or slightly curved edges. It is commonly used for objects with simple shapes and smooth edges, such as rectangles, circles, or squares.
This type of clipping path is used for objects with intricate or highly detailed shapes, such as jewelry, fur, or complex patterns. It requires careful and precise path creation to ensure accurate isolation of the object while preserving its intricate details.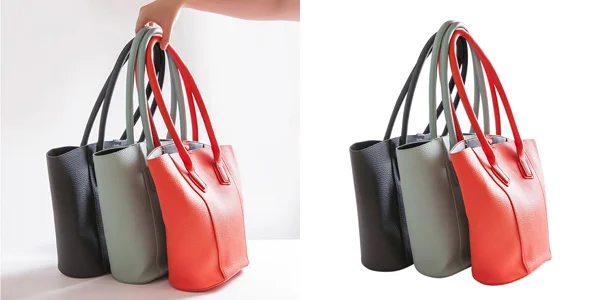 Also known as color path or color correction path, this type of clipping path involves creating separate paths for different color areas within an image. It is commonly used in product photography or e-commerce to adjust or change the color of specific parts of an object or to create variations of the same product in different colors.
Transparent Clipping Path
This type of clipping path is used to create transparency or opacity effects in an object or image. It involves creating a path around the object and then adjusting the transparency level or opacity of the object or its parts to create a desired effect, such as a see-through window or a fading effect.
These are some common types of clipping paths used in image editing and graphic design. The appropriate type of clipping path to use depends on the complexity of the object or image, the desired effect, and the specific requirements of the project.
Our Clipping Path Service Pricing is designed to be affordable, transparent, and tailored to your specific image editing needs. We offer a straightforward and easy-to-understand pricing structure that ensures you know exactly what you're paying for without any hidden costs. Our pricing is based on the complexity of the project, the quantity of images, and the specific requirements of clipping path task. Here is an estimated price range for simple to complex images:
| | | | Super Complex Clipping Path |
| --- | --- | --- | --- |
| | | | |
Experience the Difference – Trust Our Clipping Path Service for Unmatched Precision, Quick Turnaround, and Competitive Pricing. Our Skilled Graphic Designers, Years of Expertise, and Commitment to Customer Satisfaction Make Us the Ideal Choice for All Your Image Editing Needs.
We zoom in at least 300% or more when creating a clipping path around the subject. We meticulously place each clipping point in the perfect position to ensure accuracy and precision in our clipping paths. 
We offer competitive and transparent pricing for our Clipping Path Service. Our pricing is tailored to your specific project requirements, and we provide detailed quotes so you know exactly what you're paying for without any hidden costs.
We understand that every project is unique, and we provide customized solutions to suit your specific needs. Whether it's a single image or a large batch of images, we can cater to your requirements and deliver tailored results that match your vision.
We understand the importance of time in the fast-paced world of image editing. Our team is committed to delivering prompt and efficient services, with quick turnaround times that meet your deadlines without compromising on quality.
Important of Clipping Path
Clipping Path is an essential image editing technique with various significant uses in today's digital world. Clipping Path is an important image editing technique that offers various benefits, including background removal, image manipulation, consistency in branding, focus on the subject, and precision in results. It is widely used in industries such as e-commerce, advertising, photography, graphic design, and more, to enhance the visual appeal and impact of images.
Clipping Path vs. Deep-etching
Clipping path and deep-etching are both techniques used in image editing to isolate subjects or objects from their backgrounds. Clipping path involves creating a path around the edge of an image using the pen tool in Photoshop, while deep-etching typically involves using tools such as the eraser tool, color selection tool, and pen tool to remove a specific part of an image from its background. Clipping paths can be created solely with the pen tool, making it a precise and versatile technique for creating selections and paths around image elements.
Hello Edits: Your Best Clipping Path Service Provider
If you're looking for a clipping path service that can remove backgrounds, improve images, or simply make your photos look their best, Hello Edits is the right place for you. We're a trusted and experienced company that's helped countless clients get the most out of their photos. Request a quote from us today and see what we can do for you.
Our clipping path service is ideal for a wide range of clients, including e-commerce businesses, modeling agencies, photographers, and individuals who require professional image editing. Whether you need to remove a background, crop an image, or create a precise selection, our clipping path service can help you achieve the desired result.
Clipping Path servcie FAQ
Take Your Photos to the Next Level