Photoshop shadow service can be extremely important for product display, especially if the product itself is rather unappealing or unattractive. By adding an underneath shadow, you can significantly improve the quality of the photo. There are many types of shadows that can be created in Photoshop, and which shadow is most appropriate for your product will depend on the type of product being photographed as well as the product looks. 
Generally, reflection shadow, natural shadow, drop shadow or original shadow is applied to product photographs. Most businesses don't know how to use drop shadows effectively to make their product photos pop and help increase sales. Hello Edits can help you create shadows that will make your product photos stand out and help increase sales. Our clients have seen a significant increase in sales after using our service. Let Hello Edits help you take your product photos to the next level and increase sales!
Hello Edits' professional drop shadow service can take your product images to the next level, adding depth, dimension, and realism. Our quick, easy, and affordable service is perfect for anyone looking to add a little extra something to their product photos. Here are six types of drop shadow effects: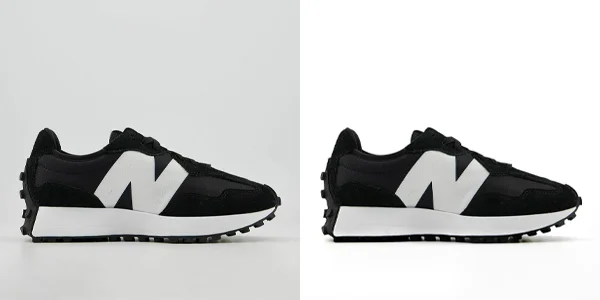 We understand that sometimes products can look unrealistic in photos due toshadowing problems or other issues. As professional Photo editing comapny, we use our best resources to make sure that the original shadow of the product is retained in the image.
The Drop Shadow Service creates shadows below the subject to create dimension and give a reference to the surface. This is done by adding a shadow beneath the product, which gives it a more three-dimensional look and makes it easier to see the product in relation to its surroundings. A shadow is an important element in product display in an e-commerce shop, as it can help give a sense of depth and scale.
Reflection or Mirror Shadow
The reflection shadow, also known as the mirror effect, is an accurate reflection of the ground of the object. It makes the object look more solid and is different from a black or grey colored drop shadow. The reflection shadow or mirror effect is being used in the following objects:  perfumes, jewelry, glassware, and watches.
If you want to make your product photos look like they're floating in the air, our team can help you out with that. We use photoshop tools to create a floating shadow effect that makes your products look like they're defying gravity. This is a popular eCommerce photo editing service that we offer mainly to businesses and product photographers, as it's a simple yet effective way to make your photos stand out.
Why Choose Our Drop Shadow Photoshop Service
We've been providing professional photo editing services since 2013. We know what our clients need and how to get the job done.
We are committed to providing our customers with the best possible experience and therefore offer a 100% satisfaction guarantee.
Our office is open 24 hours a day, and we operate on a three-shift schedule. This means that someone is always here to help you.
We know how important to protect clients' image privacy. This is why we're trusted by over 200 plus businesses globally.
What is drop shadow service?
A drop shadow is an effect that makes it look like an object in a photo has a shadow. This is a popular way to make pictures look more three-dimensional. You can use this photo editing service to make your products look more professional and attractive. This can be a great way to improve your sales and boost your business.
When to Apply Drop Shadow?
Creating a shadow effect that looks good on an eCommerce site is a skill that takes time to learn. You need to have a thorough understanding of how light and darkness work together to create a believable product image with a shadow effect. Even if you know the process, it's not always practical to use a drop shadow for every image. This is because it won't look natural for all sorts of products. When you need a three-dimensional look, you should use the drop shadow service.
What are the benefits of using Photoshop shadow services?
Photoshop's Shadow service can help your product images appear more realistic, which can in turn help you grow your business quickly. A realistic-looking image is a benefit for any firm, as it helps build trust with potential customers. When the product picture satisfies them, they are more likely to purchase those goods. You may turn views into customers by generating a convincing shadow effect.
With the current state of the web, it's grown exponentially and with that comes more competition to get noticed by potential customers. Having an effective marketing strategy is key to getting your business in front of the right people, but It can be difficult to make your product stand out without high-quality product images. At our company, we are here to help you with our photo editing services. We are able to make your product more realistic and attractive using Photoshop.
Who needs Photoshop Drop shadow service?
There are various businesses and individuals that needs shadow creation services. And we have already worked with most of them. Below are the lists of the businesses that outsource photoshop shadow services from us.
Product manufacturer
Fashion Photographers
Product Photographers
Jewelry shops
Online stores
How To Select The Best Shadow Service Provider?
When it comes to choosing the best drop shadow service provider, it can be tough to make a decision. This is because many providers claim to be the best without actually living up to that title. This waste of time, money, and effort can be frustrating, but if you follow the guidelines below, you can get rid of these issues quickly and efficiently.
Before hiring someone for drop shadow service, ask him to provide you with two or three images for a free trial. This will help you determine if they are able to meet your requirements. If they agree and are able to fullfil your requirement, then go for the rest of the images.
When you're starting a business, it's important to buy products at an affordable price. This way, you can make a profit and invest in your business. Always check the market price before hiring someone for a job like product editing.
Before hiring a photo editing company, you need to check on their communication system. Make sure you receive the right information from your potential service provider. If they respond immediately to your inquiries and provide the information you need, they are the right ones.
What our customers say about Our drop Shadow Service?
Drop Shadow Service in Photoshop FAQ
Drop shadows are layer effects in Photoshop that make it look like the layer is floating slightly above the background. They create an illusion of depth and can make your project appear more three-dimensional. You can apply a drop shadow to any type of layer, not just images.
An invoice we will send to you after completing your job. We accept payment through PayPal,Payoneer Mastercard, Visa, Bank Transfer etc.
By using photoshop drop shadow services, you can create a more realistic image that looks professional and polished. Additionally, shadows can help to add depth and dimension to an image, making it more visually interesting. shadows can add a great deal of impact to an image.
Take Your Photos to the Next Level