Invisible Ghost Mannequin service
Get professional 2D and 3D Photoshop invisible ghost mannequin services at $0.59 per image with 100% satisfaction. We will join the composite in the neck portion of the clothing and remove the mannequin. Additionally, we can reduce wrinkles in the cloth and replace the background as necessary.
The ghost mannequin photography technique is widely used in the eCommerce business. This technique helps customers imagine how the clothing looks when worn. Utilizing mannequins can also reduce the costs of product photography and increase sales. This way, you won't have to worry about finding models or dealing with their schedules.
Ghost Mannequin Service for Clothing Products
Ghost mannequin services are specially utilized for clothing products to remove mannequins from the cloth and complete the product by joining the missing portions. When we remove the mannequin, the apparel appears as if someone is wearing it. Hello Edits has been providing invisible ghost mannequin services since 2010, and we have satisfied countless clients worldwide.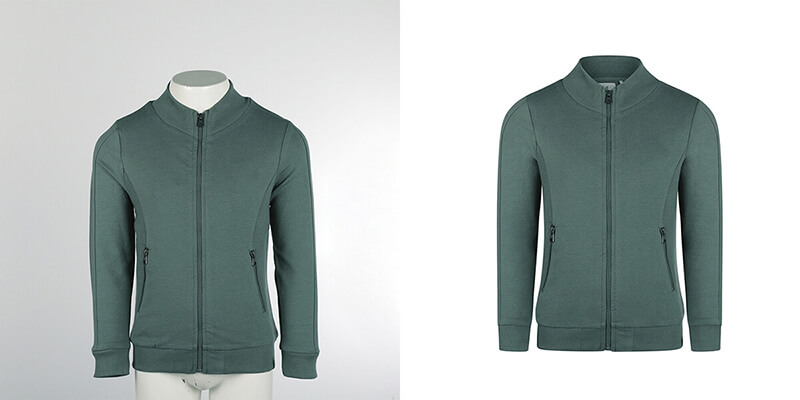 When we erase the mannequin from the neck part of the clothing, a gap is created in the inner portion of the image. To fix this, we take the missing portion from the composite image and superimpose it over the gap. Our expert photo retouchers professionally perform the neck joint and prepare it for your online shop.
Symmetrical Ghost Mannequin Service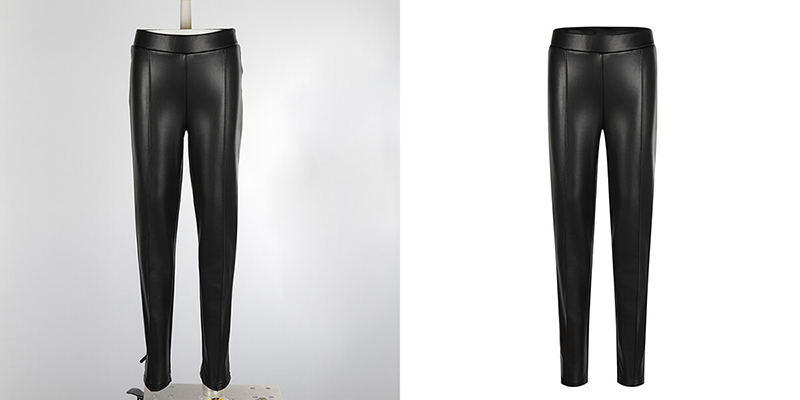 Our Symmetrical Ghost Mannequin service can achieve various types of clothing symmetry, including right-side and left-side symmetry, front and back image symmetry, and symmetry from the center. We naturally balance mirrored proportions, giving the clothing a consistent and symmetrical appearance.
2D Ghost Mannequin Service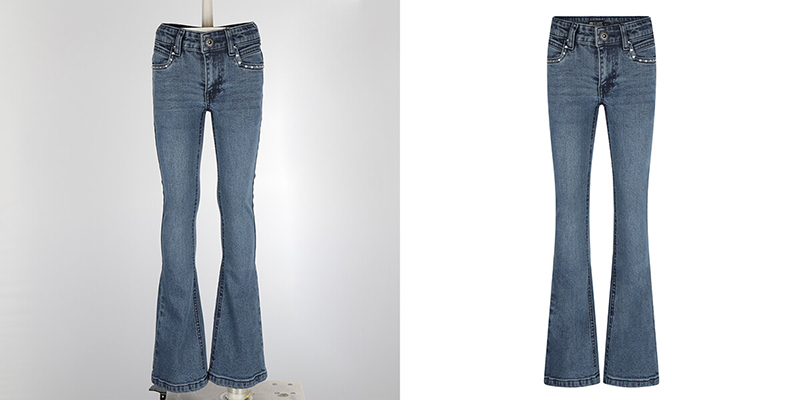 Our 2D ghost mannequin editing costs less than 3D mannequin edits because it requires less effort. After removing the mannequin or model from the clothing, the end result is a flat or two-dimensional clothing image. Sometimes, photographers shoot directly in a flat-lay style and send these images to us for wrinkle reduction and shape fixing, which also yield results similar to 2D mannequin edits after the retouching process.
3D Ghost Mannequin Service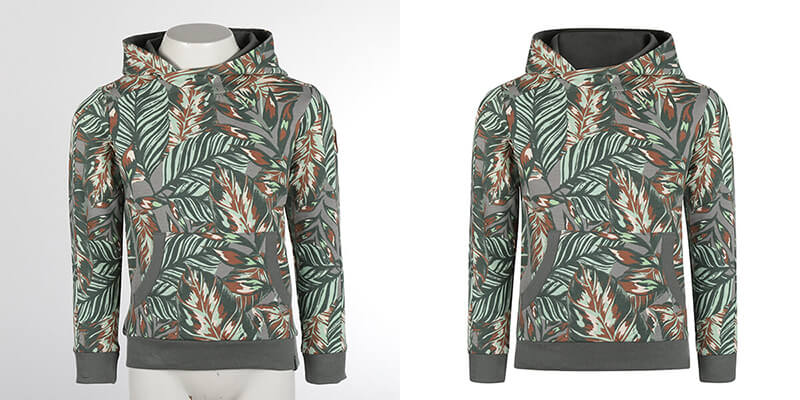 Over 80% of our clients order our invisible ghost mannequin services to create 3D representations of their clothing. After completing the 3D ghost mannequin editing, it will look like someone is inside but invisible. The final editing result presents a three-dimensional and lifelike appearance compared to 2D ghost mannequin images.
Our Ghost Mannequin Pricing
Our starting price is just $0.49 per image for the ghost mannequin service. We also offer a 20% discount on bulk orders (minimum 300 images). We always offer competitive prices with a quality guarantee.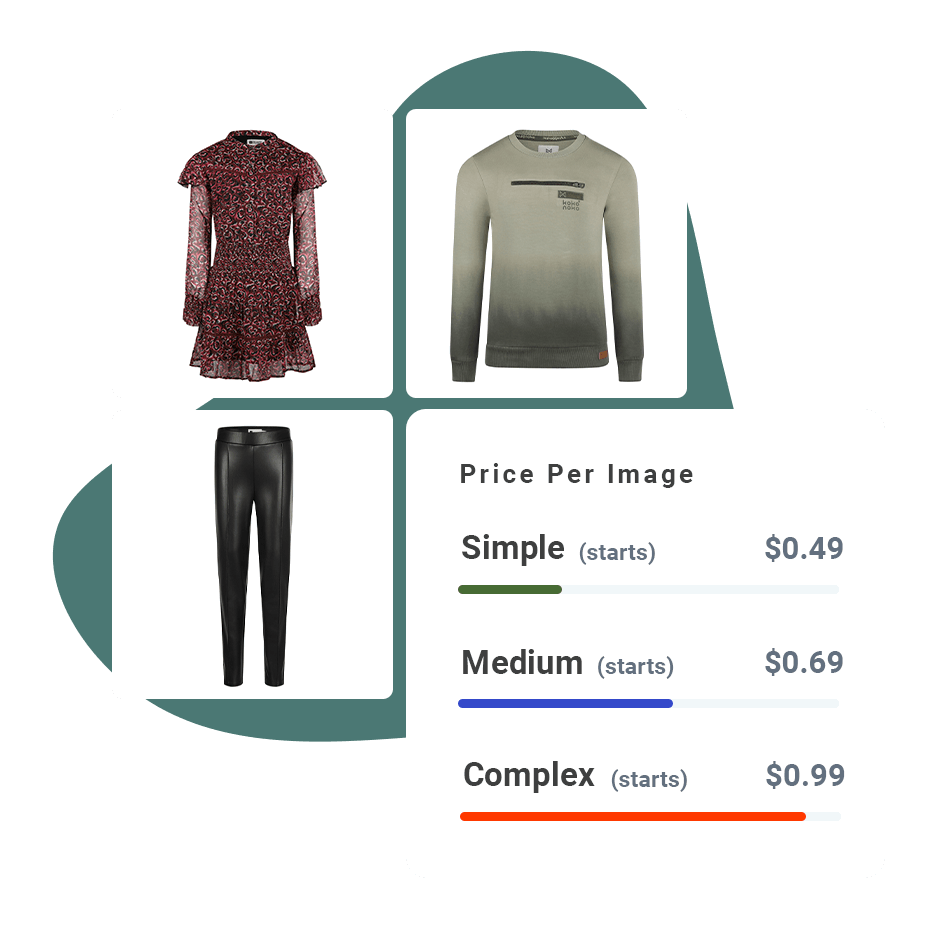 We have been providing invisible ghost mannequin services since 2010. We know how important it is to get the perfect image, and we also know that sometimes you may not be able to shoot perfectly a product. But don't worry! We'll make the necessary edits and corrections at no extra cost to you. We not only have the skillset to edit your images perfectly, but we also have the experience to know exactly what needs to be done. So sit back and relax – we've got this!
Every single image is edited by our senior designer.
We ensure the highest quality with pixel-perfect results. 
Get edited images in 24 hours or in 6 hours for urgent needs.
Our starting price is just $0.49 per image.
We do double QC before delivering a project to our clients on time.
Since 2010, we've been providing ghost mannequin services.
Our support team is available 24 hours a day to assist you.
With 170+ retouchers, we are able to process 4,000 images in a day.
What is ghost mannequin editing?
Ghost mannequin editing is a powerful post-processing technique used in mannequin apparel photography. It involves the process of removing the mannequin or model from the clothing product photograph, resulting in a 3D effect that creates the illusion of someone wearing the product invisibly. This trendy editing technique not only reduces the cost of hiring models for product photography but also saves time. Moreover, it enhances product catalog consistency.
In ghost mannequin photo editing, we first remove the mannequin, then composite the neck part, fix the clothing shape, reduce wrinkles in the fabric, remove dust, and replace the background. We continue to edit the image until it achieves a professional appearance and appears clean within 3D views.
Benifits of Ghost Mannequin Service
no matter what size or volume your studio is, invisible mannequin photography can help improve your business in a number of ways, including: 
– Increased efficiency in the studio
– Improved product photography
– Reduced costs
– Easy color calibration
– Customer satisfaction
Ghost Mannequin Services FAQ
We all know that Photoshop is the world's best software for photo editing. And we use Adobe Photoshop to create a ghost mannequin effect. There are many tools and techniques in Photoshop that you can use to create this effect.
The ghost mannequin service charges $0.99 to $1.99 per image. This is because the ghost mannequin effect uses multiple photoshop editing techniques, which makes it more expensive than the background removal services.