If you're looking for a way to fund that next camera lens and extra gear, then you should be selling your photos online.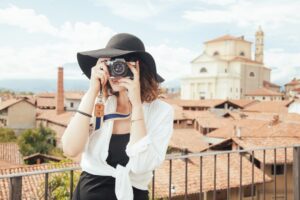 As a photographer, you already know that the competition out there is tough. So, I'll let you in one the secret to selling your photos online successfully. First, it takes skill and a unique aesthetic, but it doesn't stop there. The second factor is that you need to know how to market your work yourself as a photographer.
You could have the most stunning photos, but if you don't know how to run the business site, your sales will suffer. So, today in this article I'm going to teach you how to sell your photos online and start getting paid for your passion.
In this Article You will learn:
How to sell photos online
Sell Direct Stock On Your Own Website
The best Shopify apps for photographers
How to sell your photos using Print-On-Demand Apps
How to sell prints of your photography
Sell photos using Microstock
Get donations from free stock websites
Sell your photos on apps
Tips to see real growth when selling photos online.
Sell Direct Stock On Your Own Website
Sell your photography via direct stock. Direct stock is a term that refers to selling your photography on your own website. You can create a site on Shopify or Wix with templates that are actually for photography, and you can go with a plan for as inexpensive as 29 USD dollar per month. Shopify also offers apps that are specifically made for photographers. So Photo Lock, for example, is an antitheft image protection app and Creative Hub is an app that specializes in printing fine art pieces for photographers that are meticulous about print quality. On your own website, consider selling licenses to your photos. So if you specialize in travel landscape photography, for example, you could sell photo licenses to travel magazines and vacation companies.
You can also sell physical goods on your site. This would include selling prints and putting your photos onto march. To do this, you can easily download a Shopify app called Printful and in just a few clicks you can sell your photography on virtually everything, from mugs to books and t-shirts
Sell photos directly to a buyer
To sell photos directly to a buyer, you're going to need to spend some time marketing your business. I would recommend that you post the photos that you're selling on social media and direct people to your website from there. You can use hashtags to get accounts with larger audiences to repost your images, or you can have your friends and family. Post your photos on their own Instagram, and that's going to help expand your reach. If you're at a phase where you're ready to start putting paid dollars behind your business, consider running Facebook ads. Facebook ads are a powerful tool that can help grow your business exponentially, but it's a pretty deep topic and luckily we do have an article that's going to show you everything you need to know to fuel your business through Facebook ads.
Sell photos as prints
Sell your photography as prints. In addition to having your own website, you can be a merchant on popular print-on-demand sites. Print-on-demand sites take care of all the details. You don't have to worry about production, shipping, or selling. All you do is upload your work and get paid. Print on demand sites is a double-edged sword though, Because, those kinds of sites have tons of traffic, but they also have tons of competition amongst merchants! One thing that I will though, is that it's a good way to introduce yourself to customers that would have never heard of your business otherwise. And it's a good way to get creative with your merch. With society6 for example, you can put your artwork virtually anything You can make your photos available and duvets, shower curtains, face masks, and even tapestries. Society6 can be competitive though, so also try fine art America to find success. If you have pretty artsy photos, this would be a platform for you. They have canvas prints, framed prints and even acrylic paints. And the nice thing about fine art America is that they let you determine the cost on top of their base cost.
So, If the base price for a framed print is $50 and you choose to price it at $75, fine art America takes home $50and you get the $25.
Sell Photos on Microstock Website
Microstock will likely be the route that gets you the most money. So what's a microstock company? A microstock photography company is a company that sources their images online and they do so from a wider range of photographers. This is nice because traditional agencies will only work with select Artists, but micro stocks have a willingness to accept images from amateurs and hobbyists. Another thing to note about Microstock Sites is that they're selling their images at a very low cost. This can be anywhere from 20 cents to $10 for royalty-free images. So which Microstock site are the best?
Here is my list:
Shutterstock
500 Pixels
Depositphotos
Photodune
Alamy
Adobe Stock
They will determine the price of your photo once you upload it. And they're not exclusive, which means you don't have to give them exclusive rights to your photos. With stock sites, you have to strategize and play with the search algorithms.
What I mean by that is if you're able to get your photo on the first page for a specific search term.
example: If I'm selling a photo of Niagara Falls and I'm targeting Travel agencies, I might include words like vacation, travel or Canadian tourism as image tags, in addition to the more descriptive. It will be harder and more competitive to rank for the common subject matter.
Photography Niches Selection
You might be up against 10000 other images for the Eiffel tower for example. So, think about unique photos companies may have trouble finding. To do this, try some test searches of your own to determine what's lacking on the stock photography sites and plan a shoot to fill that gap. Ask yourself if there are underrepresented niches, emerging trends, or upcoming events that people will want photos of. So instead of just shooting the Eiffel tower, you might want to shoot a local parade in France.
Sell Photos on Free Stock site
Sell your photos for free on stock sites, free stock sites make photos available for free to anyone who's looking. Whether it's for personal or commercial purposes, anyone can download these. However, they do encourage people to make donations. That said, this is not going to be a massive money earner. But if you do have photos that aren't selling well on other sites, upload those here. Though you can only expect to make a couple of hundred bucks using this method, it's at least better than having those photos sit on a hard drive somewhere and not making any money at all.
Here is my free stock website list, Pixels, Unsplash, Pixabay, etc.
Sell photos on Apps!
Some apps have competitions for specific types of photos, where the winner that is selected gets a cash prize. Competitions are a ton of fun and you get these design challenges that push you in new directions, and there's the excitement that builds up. But this is definitely more of an entertainment exercise rather than a way to make consistent money. In addition to competitions, some apps also have the option to sell your photos as stock directly on the app, just how I mentioned before. So, check out Snapwire and Shutterstock for these. So here are some tips to see real growth when you're selling your photos online.
Tips and Tricks
The more consistent you are with posting your photos to different sites and on social media the more revenue you'll generate. The nice thing is that once you upload a photo for sale, it has the potential of masking money for even years after you've posted it. Passive income is really the name of the game here. Business images like meetings, handshakes, and suits and ties are highly searched so they do have the potential to bring in quite a bit of dough. There are tons of images in the sector so to stand out, you're going to want to make sure that your images are looking authentic. You can also use a photo editing company for better post-production.
One more things Guys
Just as you would always get a contract when you're shooting, make sure that you're diligent and reading the terms and conditions before starting with any stock sites, apps, and print-on-demand services, and pay attention to what percentage you get to take home.