As a professional photo retoucher, you can charge anywhere from $25 to $100 per hour and $2 to $8 per image. There are several factors to consider when determining your rates for photo editing services. Pricing depends on image complexity, editing type, deadlines, and quality.
For photographers, photo editing is part of their job, and they need to be experts in Photoshop to produce an outstanding final output. Professional photographers charge more than beginner photographers because they know how to capture a photo perfectly and edit it to achieve a more professional result.
There are many types of editing required for clients, including background removal, photo retouching, shadow creation, dust removal, color correction, cropping, resizing, clipping path, portrait retouching, wedding photo editing, real estate photo editing, and many more. For each type of editing, you can set a different price if you work per image. 
However, if you prefer to work per hour, it's easier to deal with clients. There's no need to think about image complexity, deadlines, or anything else – simply work and calculate your hours at your hourly rate.
Photo Editing Pricing By Hourly
If you are a senior retoucher, you can charge anywhere between $25 to $100 per hour, with the average price being $35 per hour. For newbies, you can charge $15 to $30 per hour, but before accepting a project, read the client's requirements carefully. Accept the deal only when you are sure that you are capable of doing what the client is asking for.
As a photographer, should I charge photo editing prices separately from my clients? You can create a combined photography pricing package that includes both the photoshoot and photo editing. For example, you can offer a starter package that includes 10 photoshoots and complete editing for $250 for outdoor shots. However, when dealing with larger photoshoots involving thousands of images, discussing photoshoot and editing pricing separately with your clients is the best approach.
Photo Retouching Company charges lower than an individual retoucher or photographer. However, you need to find the best Photo Retouching Company. If you are looking to retouch e-commerce products, you can consider using Clipping Path Company. They offer competitive prices, and the quality is truly exceptional.
Photo Editing Pricing By Per Image
The per-image price could range from $1 to $8, and it can even go up to $30 to $50 per image, especially for magazine and editorial images with extensive requirements. When setting the per-image price, we need to consider factors such as the deadline, editing type, and the amount of work required for the image.
For example, if your clients order 100 simple bag images and only require a background replacement, you can charge as low as $0.50 to $1 per image. On the other hand, if your clients order 100 portrait image edits with high-end skin retouching, background retouching, wrinkle reduction, cropping, and resizing requirements, you may need to charge between $5 and $15 per image.
How long Does it take to edits a photo?
How long does it take to edit a product photo? In a survey of 170 photo retouchers, they said that 44% of images take 5 minutes, and 30% take 10 minutes to complete editing. Medium-complexity images take 20 minutes, while complex images take 30 to 60 minutes.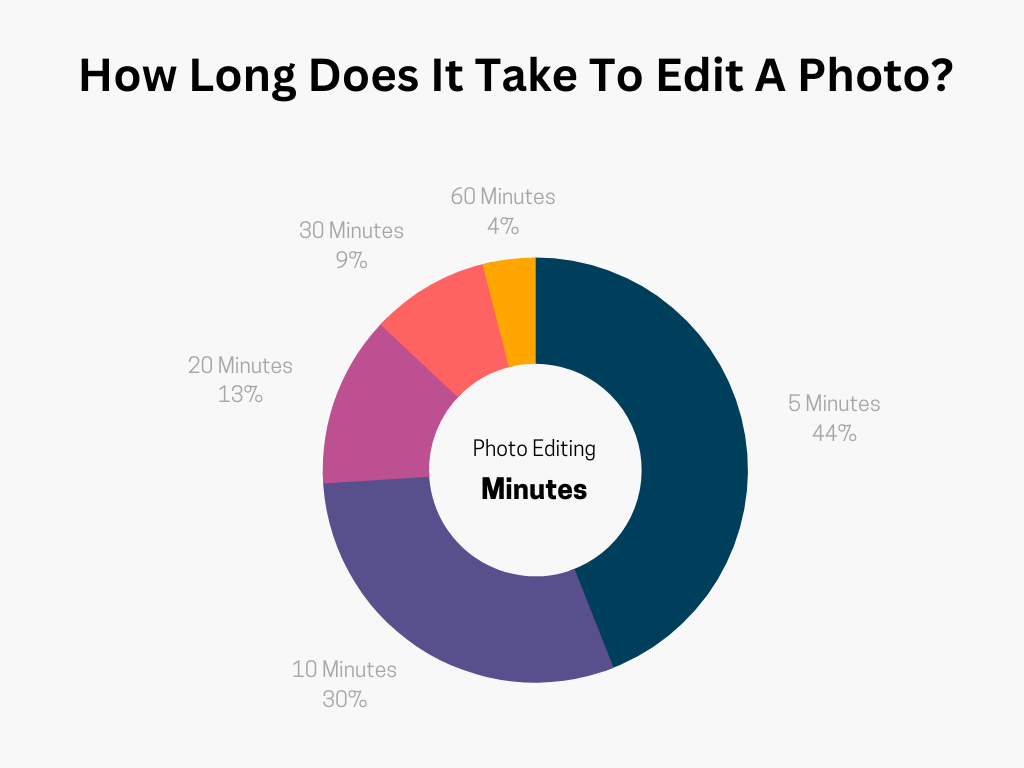 It's important to know the time it will take to edit your clients' photos. You can determine the time required based on the client's requirements and the subjects you need to edit. If you can estimate the editing time for all the images in the project, you can easily set your price for the project.
Photo Editing Pricing By Difficulty Level
When a client requests basic editing tasks such as removing dust, cropping images, replacing the background of a simple image, or color matching, these are considered basic editing tasks. For such tasks, you can charge between $0.50 and $2 per image.
When you need to edit images using advanced techniques like image masking, basic skin retouching, background replacement for medium complexity images, skin tone fixing, removing unwanted objects, cropping, or resizing, you could charge approximately $2 to $5 per image.
Professional photo retouching is one of the most advanced editing skills. When you need to use multiple editing techniques and methods to complete an image, it may take around 30 minutes to 1 hour to finish a single image. For tasks such as fixing skin tone, reducing wrinkles in clothing, removing multiple unwanted objects, creating shadows, performing hair masking, fixing makeup, adding text, and meeting additional requirements, you could charge around $10 to $30 per image.
You can charge per photo or per hour, but you need to know the value of your skill and time. The price depends on experience, skill, deadline, and other factors. You can charge anywhere from $25 to $100 per hour or $2 to $10 per image. After receiving a photo editing quote request, first take a look at all the images, then offer the best price, but don't undervalue your services.