There is a huge chance of getting potential clients from LinkedIn for photographers and a great opportunity to build a powerful business network. LinkedIn is not just a platform for job seekers; it's a powerful networking and marketing channel where you can acquire a good number of clients in need of photography services.
The interesting thing about LinkedIn is that your profile will be visible in search engine results. So, you won't only get clients from LinkedIn, but there is also a chance to acquire clients from Google and Bing search results. To leverage all of these opportunities, you need to approach it in the right way.
How to Set Up a Professional LinkedIn Profile: A Step-by-Step Guide
A professional and fully completed LinkedIn profile for photographers is important for appearing in LinkedIn search results as well as in the Google search engine. Here is a step-by-step guide to building a professional LinkedIn profile for photographers.
Choose a clean headshot or portrait photo with a smiling face for your LinkedIn profile. Do not use low-quality or selfie images. The profile picture is the first impression of your professionalism to your clients. So, you need to present yourself as a professional photographer, and a smiling face always adds to your approachability with a friendly demeanor.
In the LinkedIn cover photo, you can use your photo, but there is a chance to showcase a glimpse of your work. It will attract profile viewers to contact you after seeing your great work in the cover photo. On the other hand, you can use a banner where you can add your contact info and company logo along with your photos. Both are acceptable, but showcasing your work in the cover photo is the best use of it.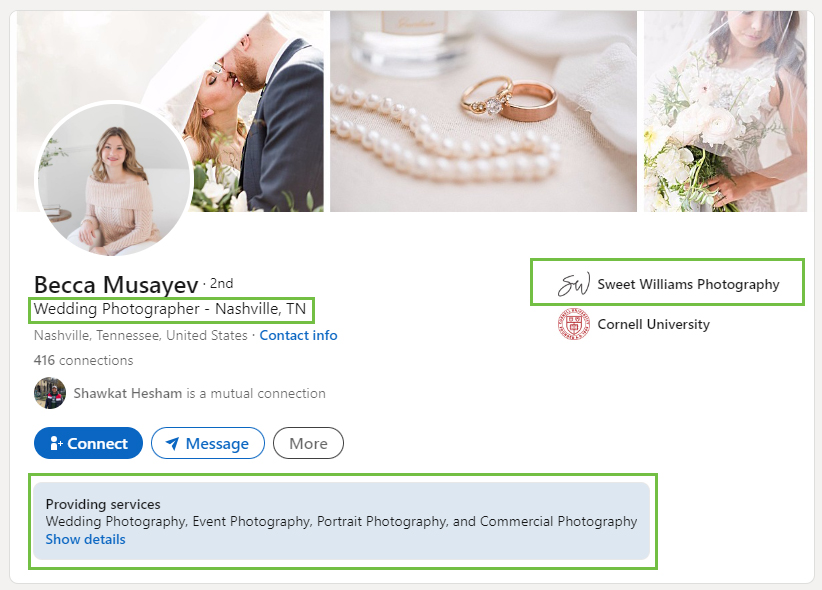 Include Primary Keyword in the Headline
The LinkedIn heading option is typically used for the job title. As a photographer, you can include your primary photography keywords in your LinkedIn headline. For example, if you are a wedding photographer in Nashville, you can use "Wedding Photographer in Nashville" or "Wedding Photographer at [Your Company Name]." This headline helps the LinkedIn algorithm display your profile in front of the right people.
Customize Public profile URL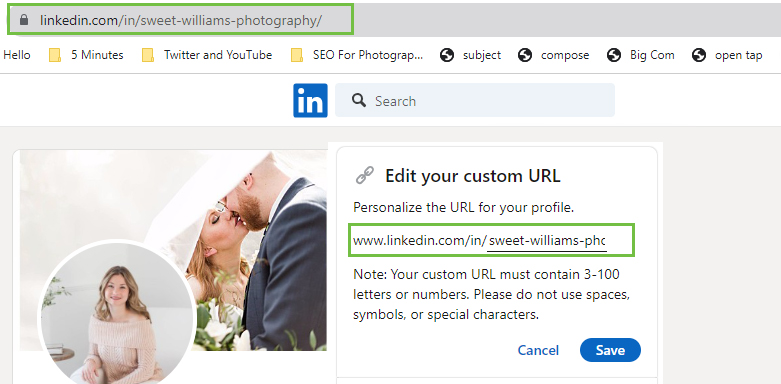 Customize your LinkedIn profile URL with your name or business name. When you create a LinkedIn profile for the first time, LinkedIn automatically generates a profile URL. You can customize it later and make it user-friendly by including your first and last name in the URL. However, there is also an opportunity to use your website username in the URL, as shown in the image above.
Add About and Showcase work in The Featured Sections
Write a simple and professional about description, including contact information at the end of the description so that anyone can email or call you quickly.
Add your recent work to the Featured Section. You can include images or links to your blog in the featured section; it will serve as your portfolio.
List Relevant Skills and experience Only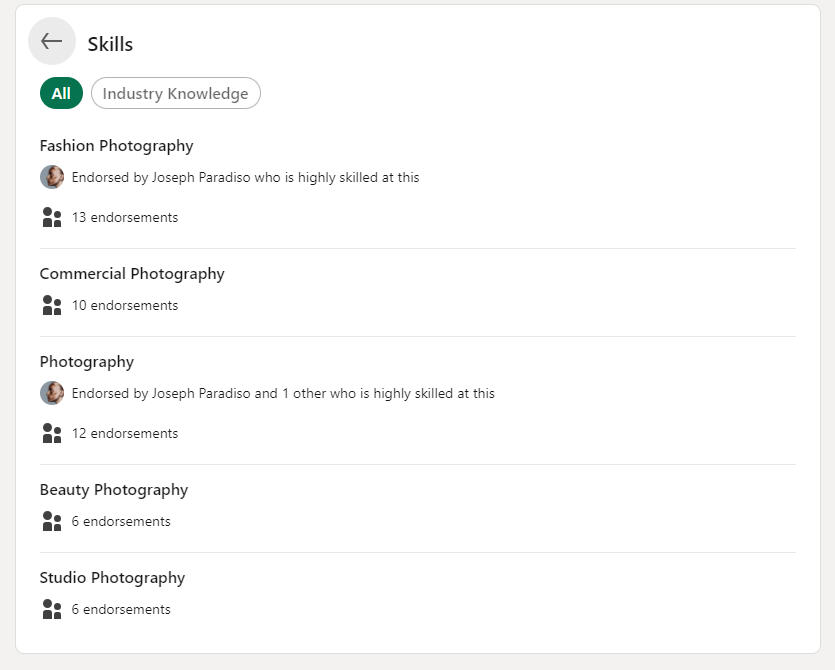 Add your experience with a short description in the Experience section. LinkedIn for photographers serves as a CV, so never miss an opportunity to add everything perfectly to make your LinkedIn profile professional and complete.
Include all relevant skills in the Skills section. For example, if you are a commercial photographer, you can list fashion photography, commercial photography, and product photography in the Skills section. You can also add photo retouching and photo editing to your skill list because, after completing the photo shoot, you often need to perform photo retouching.
Start Growing Your Connections
LinkedIn is a powerful networking platform. Start by sending connection requests to your friends first, and then expand to sending requests to clothing business owners, other company owners, CEOs, CTOs, studio managers, COOs, and other individuals in influential positions within the industry.
Also, send connection requests to people who are located near you. Avoid sending too many requests in a single day. Aim to gradually grow your connections and try to post at least once or twice a week.
If someone posts a job for a photographer, send them a connection request with a personalized note. This is the best way to connect with relevant people. You don't need to spend all day on LinkedIn; just try to post 5-6 times a month and install the LinkedIn app on your phone.
This way, if someone messages you through LinkedIn, you can respond quickly. Turn on job alerts for photographers in your city, so you can send connection requests and apply for relevant projects.
LinkedIn is a professional social media platform primarily used for business purposes, unlike Facebook or TikTok, which are more focused on personal posts and image sharing. Therefore, share your work with an optimized description to gain followers on LinkedIn and Expand your reach to a targeted audience by using photography-related hashtags.
If you write blog posts in the blog section of your website, you can share them on LinkedIn to attract more visitors to your website. 🙂
LinkedIn for photographers offers a tremendous opportunity to build digital connections and strategically expand your network by initiating connections with colleagues, clients, and relevant business professionals.
Millions of business-minded individuals are active online, all striving to grow their businesses by mutually supporting one another. By following the steps outlined above, you can build a powerful network on LinkedIn.