Establishing a successful online photography business is difficult without a well-optimized website. SEO for photographers is the key to getting your website ranked on the first page of search engine results. There is a great opportunity to attract a large number of potential clients from popular search engines like Google and Bing.
Therefore, with the right SEO strategy, appearing on the first page of search results can attract potential clients to your business and also ensure that your business is visible to the right people in need of photography services.
Let's break down all the steps to do SEO for photographers. 🙂
Search Engine Optimization (SEO) is the process of improving your website's visibility and ranking on search engine results pages (SERPs). The purpose of SEO for photographers is to get your photography website to rank higher and appear on the first page of search results. 
There are various techniques and methods that can be used to optimize your website for better rankings over time. A search engine first crawls the website, then indexes and ranks it. This is the process by which search engines gather, analyze, and rank quality content worldwide.
9 Steps to Improve SEO for Photographers
Keyword Research
Mobile-Friendly Website
Organize Your URL Structure
SEO Photos for Your Site
Create Relevant Engaging Blog Posts
Optimize your Titles & Descriptions
Focus on Local SEO
Do Guest Posting and Build Backlinks
Analyze SEO Performance
What are keywords for photographers? To attract potential clients from search results, you need to identify the search terms people use when looking to book a photographer. This means you need a list of phrases that describe your services and what you offer as a professional photographer.
SEO Keywords for Photographers Example: Suppose you are a London-based wedding photographer. Now, what can people type in the Google search box to find or book a photographer online? They can use search terms like "wedding photographer London," "Photographer in London," and "Photographer Near Me." These are the best keywords for you if you are a London-based wedding photographer.
In the screenshot above, you can see a keyword overview of "Photographer in London." It shows that 590 people use this search term to find a photographer, and the keyword difficulty is only 34%. When the keyword difficulty is less than 40%, you can rank this keyword on Google with well-structured and unique content.
You can use keyword research tools to discover keywords for your business, and I recommend hiring an expert keyword researcher to compile a list of keywords for your photography business.
How to Use Keywords in Your Content for a Higher Ranking?
Placing keywords perfectly is very important for ranking your website on Google. You can place keywords in the main title (H1) and subtitles (H2, H3, H4, H5, H6). Make sure to insert keywords in the first and last 200 words of your page. Place keywords in the meta description because the meta description acts as a summary to describe what the content is about, and its length is typically around 20-25 words (160 characters).
Don't overuse keywords in your website content or titles. You don't need to include keywords in every subtitle and every line of content. Try to incorporate keywords naturally. Keyword stuffing can negatively impact your content. For example, in this article, my main keyword is "SEO for Photographers". I placed it in the URL structure, title, and several times within the content. This is the right way to optimize your content with keywords.
When planning to build a photography website, it's essential to use responsive or adaptive design. Responsive web design adjusts your website's layout based on the screen size of the visitor devices. This approach ensures that your website's content displays perfectly for visitors on mobile phones, desktops, and tablets.
Nearly 55% to 60% of website traffic comes from mobile devices, while 39% comes from desktops and tablets. There are almost 6.92 billion smartphone users worldwide. Therefore, responsive web design is essential for every business to make its website user-friendly. A user-friendly photography website will reduce the bounce rate, increase sales opportunities and improve SEO for photography websites.
Organize Your URL Structure
It's important to have a well-structured URL when doing SEO for photographers. Placing keywords in the URL helps visitors quickly understand what they're on and the purpose of the page. It attracts visitors to navigate your website among thousands of search results.
For example, suppose you're looking to read photography blogs and use the search term "Photography blogs". You would typically trust URLs that have a structure like "photography-blog" because that's what you're searching for. So, if you're a photographer in Brisbane, you can simply create a page titled "Photographer in Brisbane" and the URL structure should be "yourdomain.com/photography-in-Brisbane".
Image SEO refers to the optimization of images on a website to achieve a higher ranking in search results. Search engines are not humans, and they can't read an image like we can. Therefore, there are ways to provide them with hints about the content of images. We can help search engines understand images by using 'Alt Text' and 'File Name'. Here are key aspects of image SEO:
Alt text is an important part of image optimization as it helps search engines understand the image's content. Below, we have an image of a wedding couple posing in nature. Here are examples of good and bad alt text.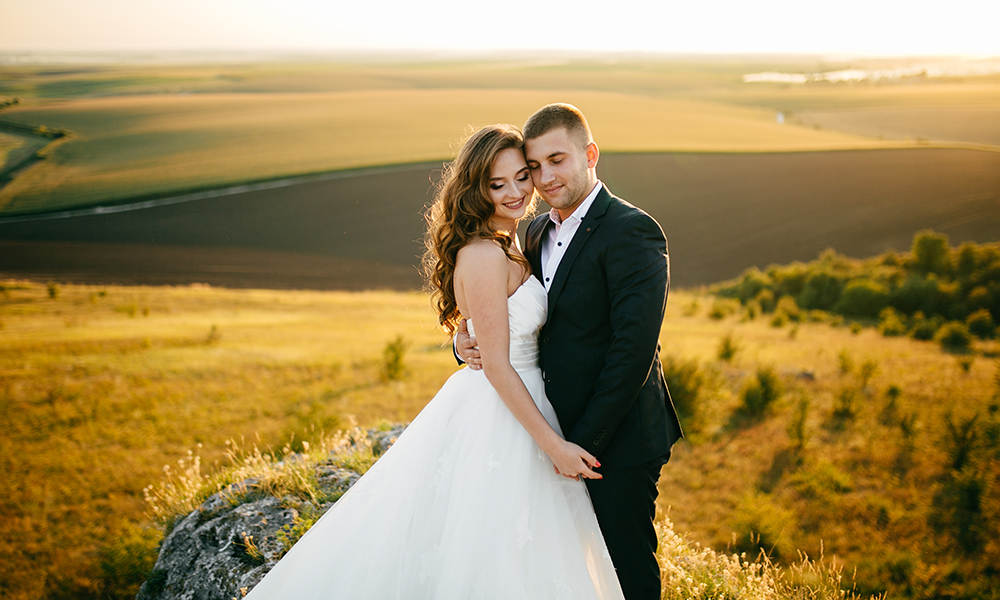 A bad alt text example would be using a file name or image source like "Couple.jpg" with the alt text simply as "Couple". While it's better than having no alt text for optimization purposes, it falls short in terms of providing a meaningful description of the image's content.
A better alt text example would be using an image source like "beautiful-wedding-couple.jpg" with alt text as "Beautiful wedding couple". This offers improved alt text and a file name that better reflects the image's content, although it could still be more descriptive.
The best example would employ an image source such as "beautiful-wedding-couple-posing-in-nature.jpg" paired with alt text as "Beautiful wedding couple posing in nature". This file name and alt text offer a clear description of the image's nature, making it easier for Google to categorize it accurately and display it in relevant niches within search results.
Compress and Resize your Images
For a better user experience, page speed is an important factor, and large-sized images can cause slow loading of your website, which can have a negative impact on your ranking.
Let's say you took a headshot photo that is 5 to 10 MB and at least 5000 pixels by 6000 pixels in dimensions. However, your website is designed with a 900px to 1200px layout, so the image is much larger than necessary for your website content. To optimize it, you can use an image of 1024 px for a better fit.
You can also check your website's page speed using tools like GTmetrix. If it shows that your website is loading too slowly, it may be due to large image sizes and you need to reduce image size. In some cases, slow loading can also be attributed to poor hosting.
JPEG is the most popular image format to use for online websites. This format supports all browsers and can be compressed to very small sizes. You can also use PNG for images with transparent backgrounds, but it typically takes up more storage space compared to the JPEG format. 
If you need higher compression, consider using WebP. I usually opt for this format when I need to upload an image at the beginning of a page because it achieves small sizes without sacrificing color depth. It's worth noting that while most major browsers like Google Chrome, Firefox, Opera, and Microsoft Edge support this format, a few older browsers may not.
Create Relevant Engaging Blog Posts
Boosting your website traffic can be made easy by posting relevant blogs. Start creating high-quality blogs for your targeted audiences who need photography services. For example, suppose you've published a blog about "how much to tip a wedding photographer". Who will search for it? Those people who are looking to hire a wedding photographer.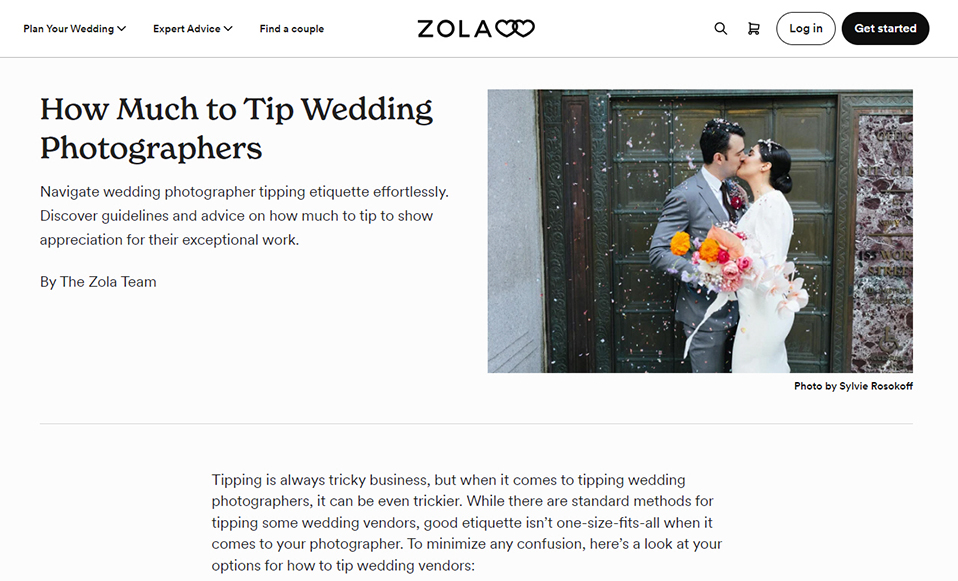 The interesting thing is that when they read your article and see that your website provides wedding photography services, there is a significant chance of receiving an order or booking from this visitor for wedding photography. In this way, you can generate more clients from online.
Optimize your Titles & Descriptions
Titles and descriptions are very important for SEO as they describe the content of your web page. Meta descriptions and meta titles appear in search results and should include primary keywords in the title. For photographers, you can also include your city's name in the title if your service area is a city, for example, "Wedding Photographer in California".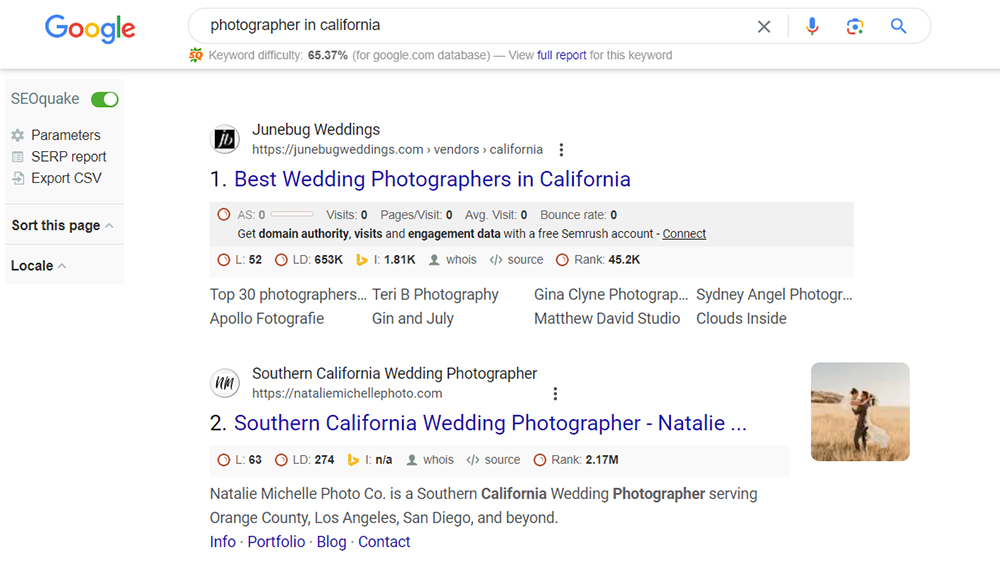 Search engines understand better now, so you can place keywords in several ways instead of repeating the same phrase. For example, if your keyword is "SEO for photographers", you can use "SEO Photographers". Google recognizes that both are relevant keywords and values them equally when visitors encounter this content.
Why Does Local SEO Matter for a Photography Business? Photographers primarily offer their services within their city. Local SEO helps you attract customers or visitors who live in your business area. So, if someone uses the search term "photographer near me", and you have a well-optimized website with Local SEO techniques, your business can appear in the top search results.
When it comes to local SEO for photographers, Google My Business is the best option for attracting potential clients through Google searches. Additionally, there are many business directories where you can list your business, which will help your website rank locally within your photography business area.
Do Guest Posting and Build Backlinks
Guest posting is an effective way to enhance your online presence by contributing photography-related guest posts to popular websites that allow guest contributions. By engaging in guest posting, you can gain wide recognition and acquire valuable backlinks from these websites. Although it may be challenging, the benefits of building quality backlinks make it worthwhile. You can aim to submit one or two guest posts every month.
Most professional photographers contribute guest posts to Shutterstoppers, Fstoppers, Digital Photography School, Photography Playground, and Expert Photography. All of these websites are popular and trusted by readers. So, in order to be accepted by them, you need to write a blog very well.
Analyze SEO performance using SEO analysis tools and compare your website's ranking performance metrics between last month and this month. Focus on the gaps where more work is needed and identify keywords that need improvement. Begin working on these areas next month. It's advisable to audit your website's performance monthly to take the next steps toward better results.
There are many tools available to monitor your SEO performance, including Google Analytics, Google Search Console, Semrush, Moz, and Ahrefs. By using these tools, you can track your website's keyword positions, visitor locations, devices, monthly visitors, impressions, keyword gaps, backlink gaps, keyword ideas, and much more.
You can also check your competitors' ranking data, which will help you figure out what they have done to achieve a better position than you. In my years of experience in SEO, I became interested in this strategy. I began researching what they had done to rank on the first page and started implementing similar strategies, which led to significantly better results in just a few months!
Additional SEO Tips for Photographers
SEO is the biggest era of marketing. You can achieve your goals, but you can never truly finish it. There are thousands of ways to market your photography website, but you can also become a successful photographer and achieve a higher rank on Google by following the steps outlined above. Now, I am sharing some additional tips that will also be beneficial for you.
Use CDN in Your Website: What is CDN? CDN (Content Delivery Network) is a network of distributed servers strategically placed in various geographical locations to deliver web content, including images, videos, JavaScript files, and other resources, more efficiently and quickly.

For instance, if your website is hosted on a server in California, and you are providing services in Australia, without a CDN, when people visit your website, your data will load from California. However, by using a CDN, your data will be loaded from servers in Australia, resulting in faster loading times.
Be active on social media: There is also a good chance to generate leads from popular social media platforms like LinkedIn, Instagram, and Facebook. For photographers, Instagram and LinkedIn are the best places to find clients. LinkedIn is the best platform for photographers to connect with business professionals who need photographers for commercials, headshots, or brand photography.
Collaborate with other Photographers: Do you know there is an easy and effective way to build backlinks by collaborating with photographers? When you collaborate with a photographer, skip photographers in your service city because they are your competitors and typically do not want to help your business. Instead, contact photographers from other cities and offer to build mutual backlinks for both of you. This is the best way to quickly build backlinks.
SEO for photographers has become an essential aspect of growing a photography business in the online era. With a robust SEO strategy, you can enhance your photography business. You now have all the crucial components of SEO for photographers. Start optimizing your photography website to achieve a better ranking in search results. 
If you don't have the time to do it yourself, consider hiring an SEO expert to ensure the job is done perfectly.