The global product photography market is projected to reach a valuation of US$ 6.4 billion by the end of 2032, highlighting the immense significance of product photography in today's eCommerce world. With approximately 2.64 billion people purchasing products online, it is crucial to provide clear and visually appealing product images that help customers make informed purchasing decisions. Therefore, we understand the paramount importance of capturing high-quality photos of products.
Remember, product photography is not only an art but also a strategic business investment. By equipping yourself with the right camera, you can enhance your online presence, increase sales, and establish a competitive edge in the ever-growing eCommerce industry. Let's embark on this journey together and unlock the potential of capturing awe-inspiring product images with the best cameras available.
Top Cameras for Product Photography
While skill and experience in product photography are invaluable, having a great camera is equally essential. It's important to note that an expensive camera doesn't guarantee exceptional image quality, as not all cameras are adept at capturing high-quality product photos. Through extensive research and personal experience, I have compiled a list of the best cameras for product photography that possess the capability to produce clean and detailed product images.
The Canon EOS 5D Mark IV is a powerhouse in the world of product photography. With its impressive 30.4-megapixel full-frame sensor, it delivers exceptional image quality, sharpness, and dynamic range. The camera's advanced autofocus system ensures precise focusing on product details, while its robust build quality guarantees durability.
Canon EOS 5D Mark IV: Features and Specifications
| | |
| --- | --- |
| Brand | Canon |
| Model Name | Canon EOS 5D Mark IV |
| Form Factor | DSLR |
| Effective Still Resolution | 30.4 MP |
| Special Feature | Interval Recording |
| Optical Zoom | 1 x |
| Color | Black |
| Connectivity Technology | Wi-Fi |
| Screen Size | 3.2 Inches |
| Photo Sensor Size | Full Frame (35mm) |
The Canon EOS 5D Mark IV features a new 30.4 Megapixel full-frame CMOS sensor, allowing for versatile shooting in various lighting conditions. It offers an ISO range of 100-32000, expandable up to 50-102400 (equivalent ISO), ensuring exceptional image quality even in low-light environments.
In terms of video capabilities, the camera supports 4K Motion JPEG video at 30p or 24p, as well as in-camera still frame grabbing of 4K 8.8-Megapixel images. It also offers multiple video options, including Full HD up to 60p and HD up to 120p, providing flexibility in capturing high-quality footage.
With the Dual Pixel CMOS AF technology, the camera delivers responsive and smooth autofocus during video recording or live view shooting. The LCD monitor features a full touchscreen interface, including the ability to select the autofocus area, enhancing ease of use and control.
The EOS 5D Mark IV boasts excellent performance with its up to 7.0 fps continuous shooting speed. Powered by the high-performance DIGIC 6+ Image Processor, it offers improved speed and outstanding image quality.
Is Cannon EOS 5D Mark IV Good For Product Photography?
The Canon EOS 5D Mark IV is well-suited for product photography due to its high-resolution sensor, versatile ISO range, and excellent image quality. Whether you are an amateur or a professional photographer, this camera can deliver high-quality results for your product photography needs.
The Nikon D850 is a highly capable camera for product photography. It features a specially designed backside-illuminated (BSI) full-frame image sensor without an optical low-pass filter. With an impressive resolution of 45.7 megapixels, the D850 delivers extraordinary image quality, exceptional dynamic range, and virtually no risk of moiré patterns. Its advanced autofocus system and fast continuous shooting speed make it ideal for capturing moving subjects, such as in lifestyle or action-oriented product shots.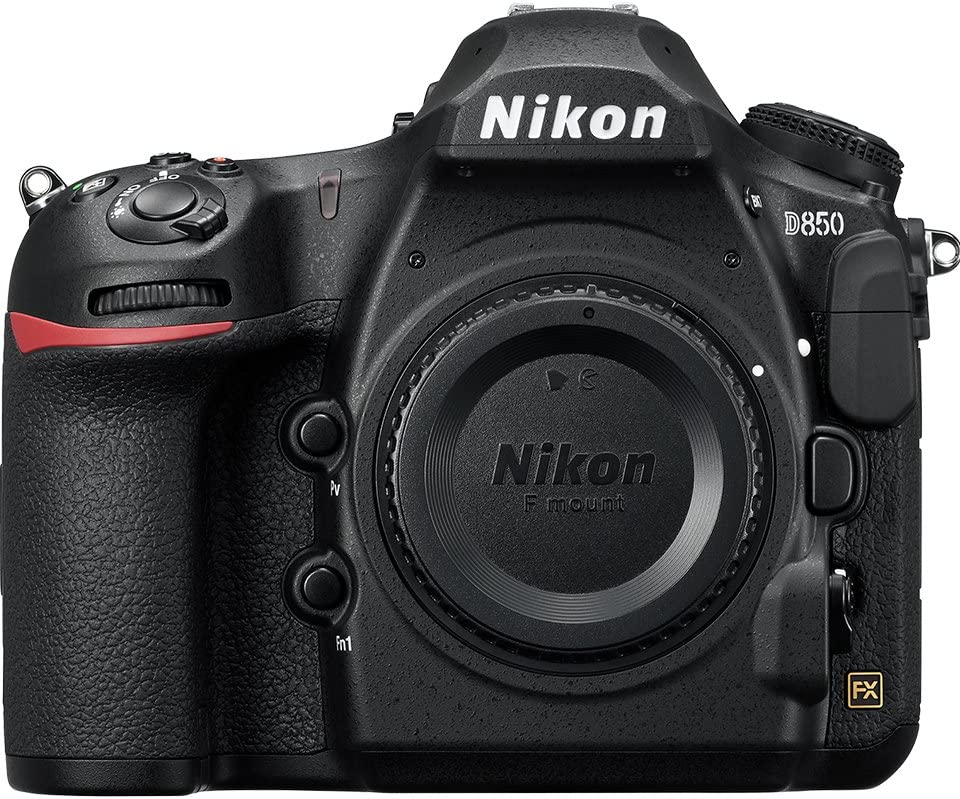 Nikon D850: Features and Specifications
| | |
| --- | --- |
| Brand | Nikon |
| Model Name | Nikon D850 |
| Form Factor | DSLR |
| Effective Still Resolution | 45.7 MP |
| Special Feature | Digital-camera |
| Optical Zoom | 1 x |
| Color | Black |
| Connectivity Technology | Bluetooth, USB, HDMI, NFC |
| Screen Size | 3.2 Inches |
| Photo Sensor Size | 35.9 mm x 23.9 mm |
With a continuous shooting speed of up to 9 frames per second, the D850 ensures that you can capture fast-paced product shots with full autofocus performance. It also offers the ability to record 4K Ultra HD videos and supports slow-motion recording at up to 120 frames per second in 1080p resolution.
The camera boasts a tilting touchscreen for easy navigation and offers features like focus shift shooting mode for enhanced focus stacking capabilities. Its outstanding battery performance allows for extended shooting sessions, ensuring that you can capture all the product details you need.
Is Nikon D850 Good For Product Photography?
The Nikon D850 is my top choice for product photography. Its touchscreen interface allows for easy navigation and precise control, ensuring high-quality photos of your products. The camera excels in low-light conditions with its exceptional autofocus capabilities and effective noise reduction at high ISO settings. When combined with a well-equipped studio setup, the Nikon D850 delivers professional results for your product shoots.
The Sony A6100 camera can be the best option for product photography. This mirrorless camera is able to capture impressively clean results. Its high-resolution sensor, advanced autofocus system, fast shooting speed, and impressive low-light performance make it a reliable choice for capturing professional-quality product images.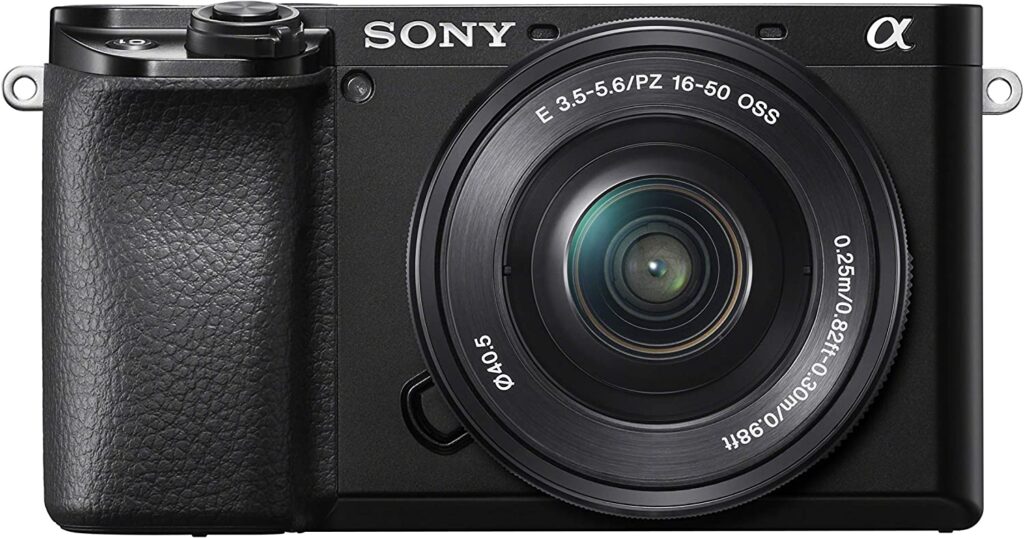 Sony A6100: Features and Specifications
| | |
| --- | --- |
| Brand | Sony |
| Model Name | ILCE6100L/B |
| Form Factor | Mirrorless |
| Effective Still Resolution | 24.2 |
| Special Feature | BIONZ X Image Processor; Built-In Flash |
World's fastest AF at 0.02 sec with real-time AF and Object tracking
Wide 425-phase/425-contrast detection AF points covering over 84% of the sensor
24.2MP APS-C Exmor sensor with front-end LSI and ISO range up to 51,200
Up to 11fps continuous shooting at 24.2MP RAW with AF/AE tracking
Real-time AF Tracking and Real-time Eye AF for both human and animal subjects
Movie recording capabilities with microphone input and a 180-degree tiltable 3″ touchscreen LCD
Touch Tracking feature for smooth continuous focus tracking, activated with a simple touch on the display screen
Is Sony A6100 Good For Product Photography?
Yes, the Sony A6100 is a great option for product photography. It boasts a fast and accurate autofocus system, a high-resolution sensor, and impressive image quality. With its compact size and lightweight design, it is also highly portable, making it convenient for shooting products in various locations. Whether you're a professional or an enthusiast, the Sony A6100 offers reliable performance and the versatility needed to capture stunning product images.
The Sony a7 III is a popular camera widely used for product photography. According to a survey, 28% of professional photographers consider it their primary camera for product photography. Additionally, many major agencies also rely on the Sony a7 III for their studio photoshoots.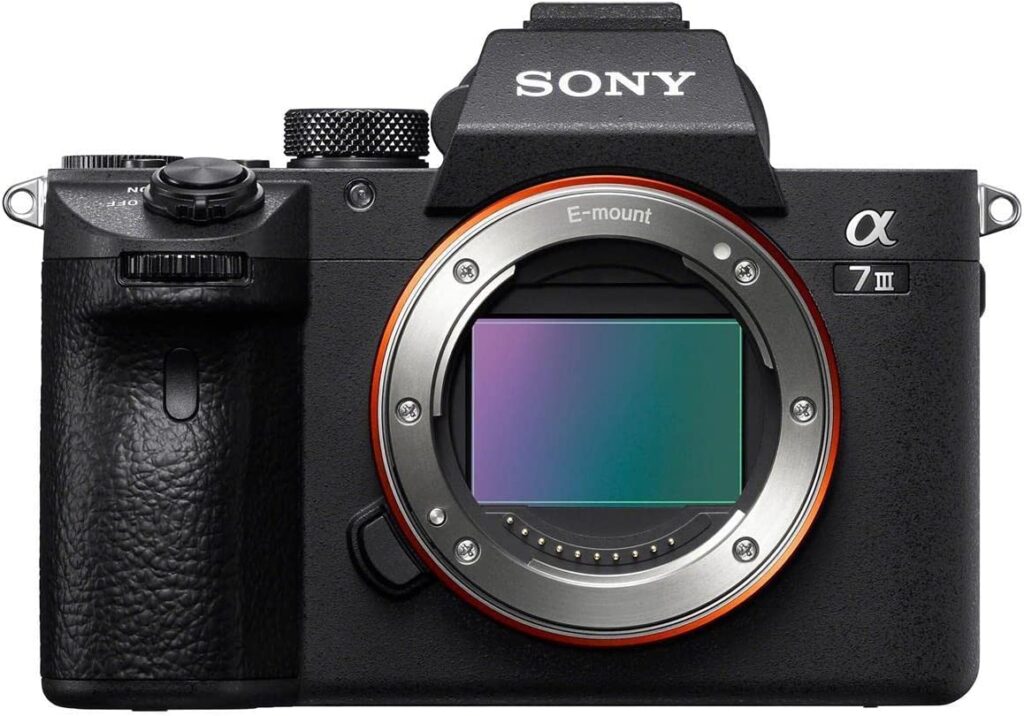 Sony Alpha a7 III: Features and Specifications
| | |
| --- | --- |
| Brand | Sony |
| Model Name | Alpha a7 III |
| Form Factor | Mirrorless |
| Effective Still Resolution | 24.2 MP |
| Special Feature | Portable |
| Optical Zoom | 1 x |
| Connectivity Technology | USB |
| Photo Sensor Size | Full Frame (35mm) |
One standout feature of the Sony Alpha a7 III is its extended ISO range, which now reaches from ISO 100 to 51200 (expandable to ISO 50-204800 for stills). With the inclusion of Detail Reproduction and Area-specific Noise Reduction technologies, this camera effectively reduces noise in high-resolution images while maintaining intricate details. You can confidently shoot at high ISO settings without worrying about noise or image deterioration.
Another notable enhancement is the faithful color reproduction delivered by the Sony Alpha a7 III. The camera's color reproduction performance is dramatically improved, resulting in more accurate and natural-looking colors straight out of the camera. Whether you're capturing portraits, Product, landscapes, or still-life images, the Sony Alpha a7 III faithfully reproduces colors to ensure a realistic representation of the scene.
The Sony Alpha a7 III boasts an advanced AF system with 693 phase-detection AF points covering 93% of the image area, ensuring precise and fast focus. Additionally, it features 425 contrast AF points for enhanced accuracy. The camera's Eye AF technology is both fast and reliable, tracking subjects with remarkable precision, making it ideal for capturing portraits and subjects in motion.
Is Sony A7III Good For Product Photography?
Yes, the Sony A7III is an excellent choice for product photography. With its high-resolution sensor, advanced autofocus system, impressive low-light performance, and versatile shooting features, it allows photographers to capture stunning product images with exceptional detail, accurate colors, and precise focus.
Fujifilm GFX 100S: Features and Specifications
| | |
| --- | --- |
| Brand | Fujifilm |
| Model Name | GFX 100S |
| Form Factor | DSLR |
| Effective Still Resolution | 102 |
| Special Feature | Interval Recording |
| Optical Zoom | 1 |
| Color | Black |
| Connectivity Technology | Bluetooth, Wi-Fi |
| Screen Size | 3.2 Inches |
| Photo Sensor Size | Medium Format (>35mm) |
The Fujifilm GFX100S is a remarkable camera that combines ultimate resolution and dependable processing for stunning results. Powered by Fujifilm's X-Processor 4 quad-core CPU and featuring a 102MP back-illuminated CMOS sensor, the GFX100S delivers incredibly detailed still images with outstanding color fidelity and rich shadow detail. Its wide dynamic range allows for impressive adjustments in post-production, and the Pixel Shift Multi-Shot feature enables the creation of ultra-high resolution 400MP stills.
In video mode, the GFX100S records 4K/30p footage in 10-bit F-log or 12-bit ProRes RAW, offering a cinematic look with beautiful depth of field. Despite its compact size, the camera incorporates a newly developed shutter and In-Body Image Stabilization (IBIS) system, providing exceptional performance and allowing for handheld shooting even in low-light conditions. The combination of the new shutter's 5fps continuous shooting capability and the five-axis IBIS working in conjunction with GF Lens Optical Image Stabilization (OIS) offers up to 6 stops of correction.
The GFX100S excels in autofocus (AF) technology with its advanced phase detection AF system. With an updated autofocus algorithm and phase detect autofocus pixels covering nearly 100% of the frame, it achieves rapid focusing in as little as 0.18 seconds, even in challenging lighting conditions as low as -5.5EV. The camera's responsive tracking, reliable Face/Eye Detection, and accurate AF performance make it an ideal choice for large format photographers, ensuring precision and reliability even in low-contrast situations.
Is Fujifilm GFX 100S Good For Product Photography?
I have been a Nikon shooter for a while, but I recently made the decision to purchase the GFX100S. It has proven to be the right choice for me. Not only does it capture product photos with highly accurate details, but its sensor also performs exceptionally well in low-light conditions, despite its 100-megapixel resolution. Whether you are into photography or videography, the GFX100S delivers outstanding results in both realms.
How to Choose a Camera for Product Photography?
Choosing the right camera for product photography can be challenging, especially for new photographers or when switching cameras. Before making a purchase, it's important to establish your budget. There are many good cameras available in different price ranges, each with its own set of features.
Start by conducting online research to find cameras with excellent low-light performance. Look for cameras that can produce high-quality images. In today's photography world, a reliable autofocus system is essential for achieving optimal results. Additionally, check for connectivity and tethering options to ensure flexibility during your shoots.
I have conducted thorough research and compiled a list of cameras suitable for product photography. You can choose from the options mentioned above and find the one that best fits your requirements. Remember to consider your budget, image quality, autofocus capabilities, and connectivity features when making your decision.
Is a 3-Point Slinger for Cameras Necessary for Product Photography?
When it comes to product photography, the use of a 3-point sling for cameras can be highly beneficial. This type of sling system provides added stability and support for your camera, allowing you to capture precise and sharp images of products.
A 3-point sling for cameras can greatly enhance your workflow and improve the quality of your product photography. It offers stability, flexibility, and protection, allowing you to focus on capturing stunning images without worrying about the safety of your camera. While it may not be an absolute necessity, it is a valuable tool that can significantly improve your photography experience.
Mastering Product Photography Pricing: Strategies to Optimize Your Budget
To fix your product photography prices, consider evaluating your expenses, determining the time and effort required for each project, researching market rates, assessing your value proposition, considering client budgets, testing and adjusting your pricing, and effectively communicating your pricing structure to clients. Regularly reviewing and adapting your pricing strategy is essential to ensure it aligns with your costs, value, and market competitiveness.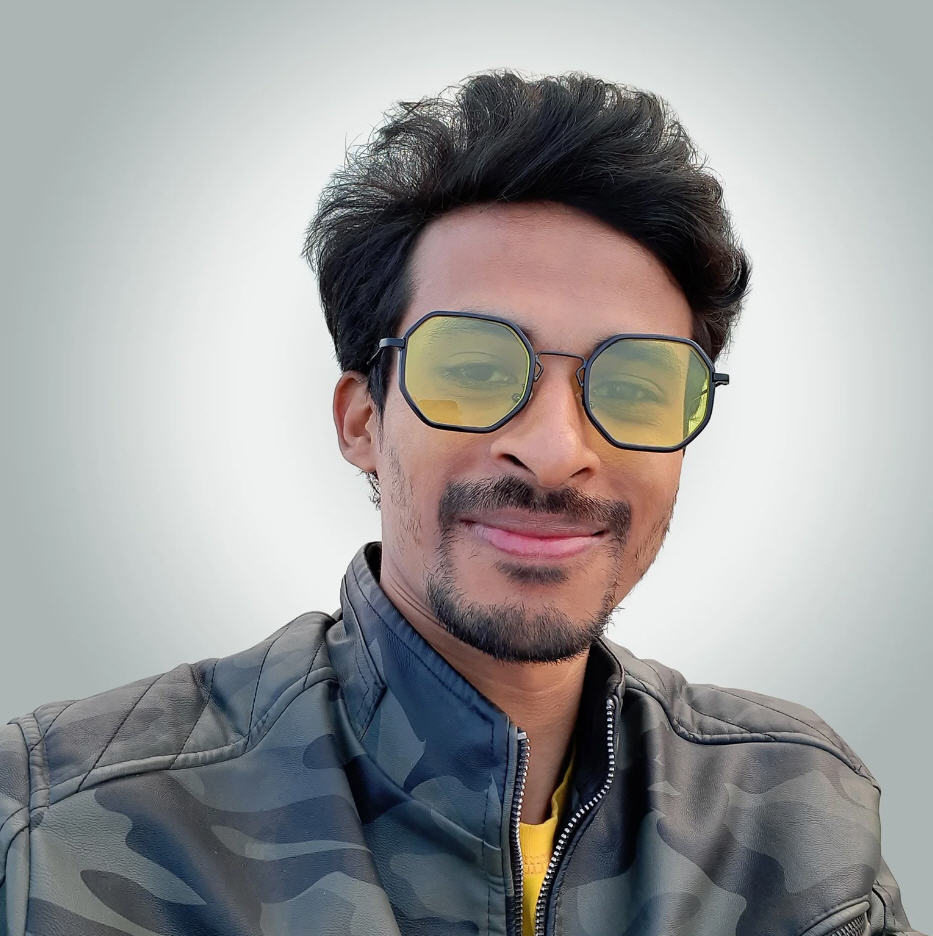 Hey, I'm Evan! As a professional Photo Retoucher and creative content writer, I have dedicated the majority of my career to perfecting images and crafting compelling written material. Every week, I publish new articles on Photography, Photoshop, and Lightroom to help you unlock new skills.